Often our clients come to us for advice about strategies to win more clients, engage with them more, and retain them for longer – and so I will suggest App Indexing. And almost inevitably I will get in reply, some version of "what's that?"
Let me be clear from the outset here, we don't sell SEO services. Our job is to build and develop beautiful, intuitive mobile and web digital solutions. I spend a lot of time consulting on how to build these yet when the mobile apps are built and deployed, many make the mistake of presuming that people will just flock to the app and have no strategy in place to optimise the app and future proof it.
Most of our clients work with a combination of creative agencies, digital agencies, SEO agencies, and sometimes Consultants. And yet, I have yet to meet anyone at all who had implemented App Indexing or even knew of the benefits.
It's been around since 2016. Why is this?
If you don't know what App Indexing is then this
[ https://www.youtube.com/watch?v=C35OSHlTNwA
](https://www.youtube.com/watch?v=C35OSHlTNwA) - under 2-minute 
video direct from Google will give you the rough guide.
In brief, indexing gets your app result into google search. Users can be directed to a specific page in an installed app, or be directed to download the app either at the top of the page or next to your web results (on Android). If you perform a google search on a mobile device, the search results will not only include web content but also relevant content within an app.
When people leave your app to search for something you can offer, you can reel them back into the app directly
.The goal should be to create an ecosphere, a walled garden, maybe a little Stockholm syndrome –you want better control of the relationship.
App indexing, when done correctly, can increase traffic, conversions and app installations.
Not to mention the effect it is has on user retention.
Considering 25% of users abandon the app after first use, I'm stunned that App Indexing hasn't (or at least doesn't appear to) have taken off. 
It's something that needs to be integrated into your digital strategy to maximise app ROI.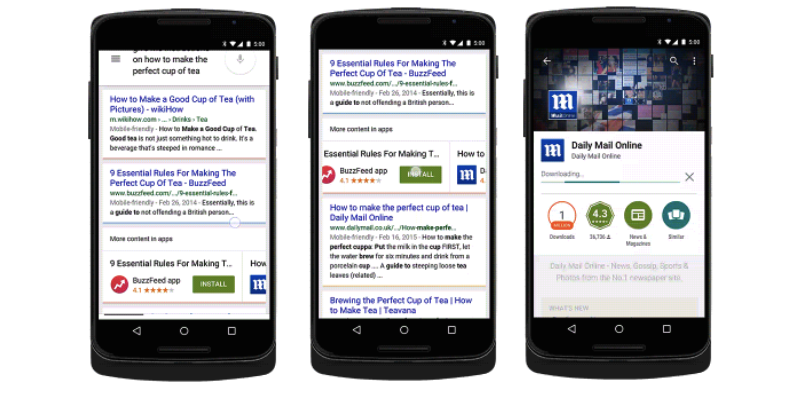 *Source- Android Community*
A solid example of where App Indexing has made a huge difference is the Daily Mail App. After implementing it, they saw a 22.2% increase in total mobile search impressions, spent 20% more time per visit and were twice as likely to share content. the main ad unit also monetizes at a 27% higher CPM that their mobile website.
So why is it exactly that everybody I meet never knows about it? Ever.
There is, as far as I can imagine, only three possibilities for this:
Many SEO agencies don't want to discuss it (or perhaps don't know about it?)– perhaps they think is a client spends money on an app then that will reduce their budget? Perhaps someone can enlighten me.

Many Creative agencies don't know about it, or again don't want to see "their" budget reduced.

Many IT teams see the technology as outside of their sphere (as an SEO/Marketing job) so don't push to implement it…or don't know about it
t
Don't get me wrong, I'm fully aware that there are reasons why people decide to not leverage App Indexing (the classics mainly lacking, time, resource, energy) but to not even know about it...how has this happened?
_To get App-Fit for 2018, to discover what you don't know, and discuss how to leverage what you do, xDesign is happy to come and see you, face to face, because there's still power in just getting in a room, and working things through. Contact Us Today! _
<!-- [if lte IE 8]>
Author Ben Hutton: Client Services Director